February 2, 2021 | Blog by: Ali Griffiths, Derwent House
Historically engaging a designer-maker to utilise their design talent, specialist craft skills and knowledge of materials to make exactly what you need, was commonplace. Nowadays the idea of commissioning a bespoke piece of furniture, length of fabric or handcrafted piece for your home can seem a bit daunting.
We've become so used to buying what is available to us in stores and online, it's easy to forget that not everything in our lives need be about convenience and the disconnect of 'click and collect'. There are many talented craftspeople designing and making affordable interior products here in Britain today. At Derwent House we are passionate about connecting people looking for unique, handcrafted products with the craftspeople that produce them.
Whether choosing a tailor-made sofa, the perfect dining table made to exact specifications or a bespoke lamp and shade to match your colour scheme, not only should working with a maker to create exactly what you need be a fulfilling and meaningful experience but there are practical benefits too.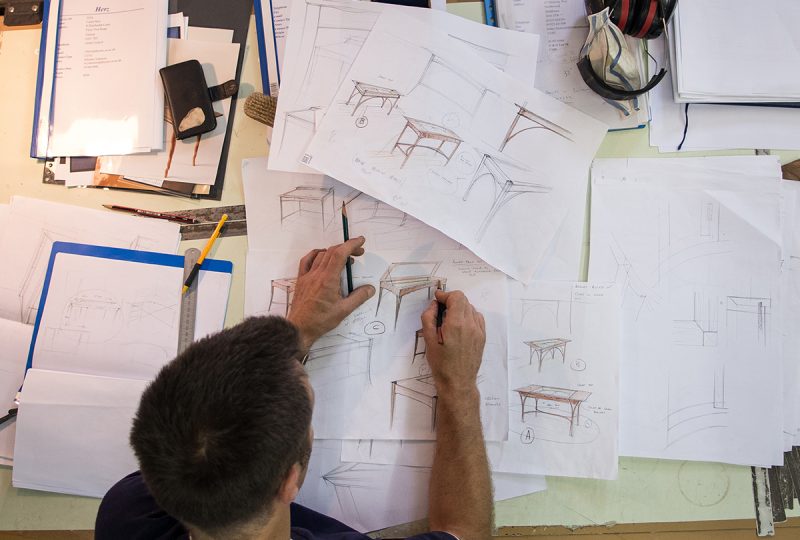 High Quality
Making a truly bespoke item involves high levels of skill, care and focus with the Designer-maker directly involved in the making of each piece from concept, through production, to the finished piece. They will be invested in working with you to showcase the very best of what they do and ensure that the piece meets their exacting quality standards.
Unique to you
Bypass the taste setters to embrace and share your own creative vision with a skilled craftsperson who has honed their skills and understands their materials. They can interpret your ideas and help you to push creative boundaries to create a truly personal piece that you will find great pleasure in having in your home.
A more integrated look
Have you ever spent hours scouring the internet and shops for the perfect interior piece to fit your scheme and nothing is quite fitting the bill?  Whether you are looking to find a piece to complement a particular design style, match a colour scheme, if you need a specific size or certain material, working with a designer-maker to create a unique piece can be the defining factor in successfully bringing a scheme together.
Sustainable shopping
The amount of furniture and homewares discarded each year continues to increase and is not sustainable. Our makers focus on producing unique, high quality goods that will last for generations, sourcing materials that are natural and sustainable.  A considered approach to commissioning to order ensures that by partnering directly with a maker to make only what is needed, we engage with sustainable production and minimise waste.
Commissioning a bespoke piece
You will start with an initial consultation with designer-maker to understand and agree the design brief. It is useful if you have a drawing, mood-board or images of things that you like and maybe dislike too so that the designer can start to build an idea of your personal tastes and requirements. The maker will then come up with a plan, design sketch, specification of materials, colour swatches or samples along with a quotation for discussion.  Once the design or sample have been signed off you will need to place the order and agree delivery time scales. Many designer-makers will want you to see the piece taking shape and will encourage a visit to their workshop or send photos as your project progresses.
Supporting British craft and makers
By investing in British craft, you will help preserve skills and a livelihood that can be passed down to the next generation. You will be a patron of crafts and the proud owner of an original interiors piece that will endure for generations to come….