December 29, 2020 | Blog by: David Limmer - Store Manager, Derwent House
A sofa or armchair is probably one of the most important investments you will make when creating a living room scheme. Whilst you can ring the changes with paint, curtains and finishing touches, a good sofa should last for many years.  Aside from considerations such as style, colour and pattern there are also hidden features and details that will determine your furniture's durability and longevity that shouldn't be overlooked. At Derwent House we are proud to represent British sofa manufacturer Delcor, who have a long history of hand crafting sofas to order in their Northumberland workshops.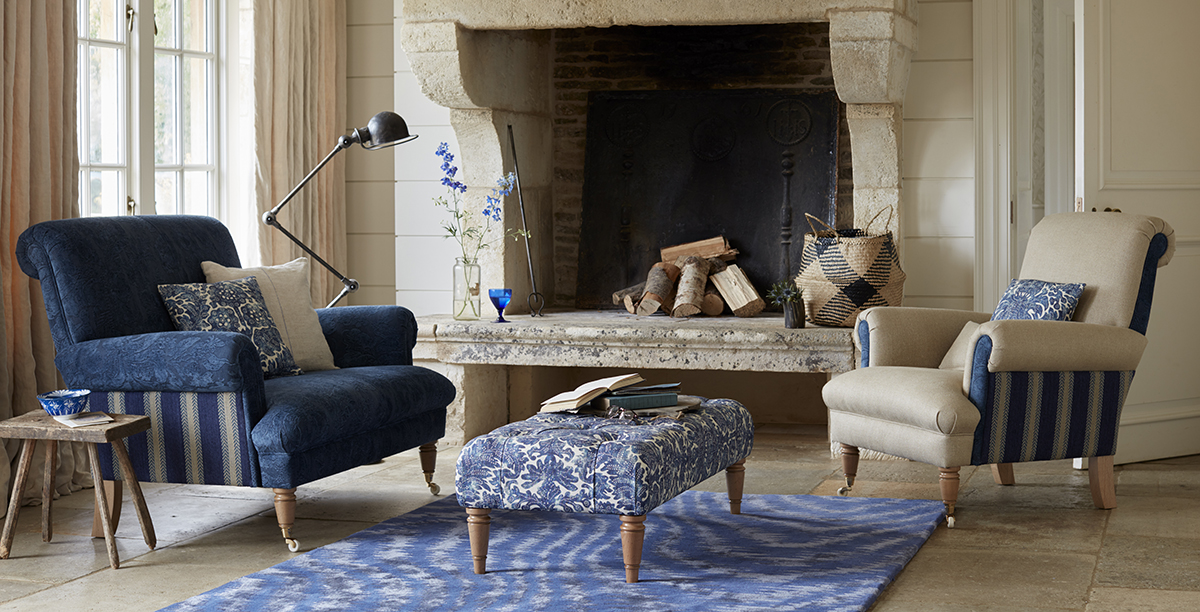 Quality – Ask how the frames are made.  Delcor use birch timber for their hardwood frames which is selected and cut at their own sawmill in Northumberland so the quality of the wood is guaranteed. Frames are cut and built by hand, using techniques passed down through the generations. Nothing is pre-cut or off-the-peg and a Delcor frame comes with 50 year guarantee.
Springing – Ideally a well sprung classic sofa style should have coil springs in the seat base which will ensure a more even distribution of weight and will reduce wear on cushions to make your sofa more durable and comfortable.
Padding – Layers of good quality padding materials skilfully upholstered onto the sofa frame will ensure your new sofa retains its shape and avoids uneven wear of the final fabric covering. Check the arms and front seat edges to ensure you cannot feel the frame through the padding materials.
Finish – Piping, back panels and valances are carefully sewn to offer a more tailored finish.  Fabric patterns are perfectly matched at the seams to give a neat and cohesive appearance.
Testing – Take time to try out sofa and armchair styles for size and comfort. Take off your coat, sit and relax as you would at home.  Do you prefer to sit up straight and have a higher back or lie out on a deeper seat? Ask about modifications.  As each Delcor sofa and armchair is tailor-made to order there is the option of increasing or reducing the seat and back measurements to perfectly suit your requirements.
Bespoke – Once you've settled on your preferred style, in addition to their standard sizes Delcor offer a made-to-measure service. Your furniture can be made to your exact size specifications with your choice of fabric, cushion interiors, leg and castor options.
Fit for purpose – The experienced and knowledgable team at Derwent House are on hand to chat through your requirements and offer advice on practical considerations such as the best styles for additional back support, harder-wearing fabric options and lower maintenance cushion fillings that require less plumping.
Measure Up – We recommend using paper templates to ensure your sofa will work in the available space.  Alternatively we can work with you to draw up a floorplan to help plan your furniture layout. Delcor offer an 'Assembly on site' service if should restricted access be a problem.
Style – Delcor's range of timeless, classic and contemporary styles are designed to work in almost any scheme. Whether you are looking to make a bold statement, create a smart tailored look or a relaxed, modern scheme, we can help you pair your chosen sofa or armchair style with a fabric and wide choice of leg shapes and wood finishes to help achieve your desired look.
Fabrics – Prepare to be amazed by the choice! We are here to help guide you through your selection and work out the style of fabric that will complement the look and scale of your room. In addition to the obvious considerations such as colour, texture and pattern there are other features such as the choice of yarn and rub test ratings that should be taken into account. Ordering fabric samples to create a mood-board or view the options at home is a good place to start.
Get Started – We are here to help you start the process of finding your perfect furniture. Richelle, Ali and David are on hand to answer any questions you may have. Visit Derwent House to see and try over 40 Delcor sofa and armchair styles and browse the latest collections from the leading British fabric houses. We will arrange for your selection of fabric cuttings to be sent free of charge to your home. Please get in touch at [email protected] if you would like to make a one-to-one appointment with one of the Derwent House team.
Links to British Fabric Houses; 
For a wealth of great designs across plains, prints, weaves and ever-popular plain, printed and cut velvets Linwood Fabrics and Romo offer a wide choice of affordable collections.  For classical English designs, beautiful prints, embroideries and woven fabrics in soft colours try Colefax & Fowler and Jane Churchill. Osborne & Little and Nina Campbell have colourful prints and are a great place to look for small patterned weaves, chenille and textured semi-plains. GP & J Baker and Sanderson are both long-established fabric houses that offer beautiful archive prints, often recoloured to suit modern tastes, along with a wide variety of classic weaves, textured plains and velvet ranges. For luxurious, heavily textured weaves, ornate tapestries and rich velvets try Mulberry or Zoffany.  If you are looking to create a relaxed look Ian Mankin produce collections of plain linens, cotton tickings, stripes and checks in soft tones and for bolder colours try Designers Guild.  Moon Fabrics specialise in 100% wool plains, herringbones and checks. For practical options Wemyss offer a broad selection of durable fabrics, many of which are treated with Fibre Guard.