February 12, 2021 | Blog by: Richelle Spooner-Davidson, Retail Director - Derwent House
'Mood boards are an arrangement of images, materials and pieces of text intended to evoke or project a particular style or concept'.
If you are thinking of creating your own mood board you will no doubt have a specific room in mind that needs a refresh or a complete refurbishment. Whatever the size, there are a few elements that you need to think about before starting any project and a decorating mood board is a great tool on which to start organising your ideas…

Getting Started – Firstly, decide what is staying as these pieces will be your references for colours, theme and style. Whether it is existing furniture, a rug, artwork, or curtains take photographs and put them on the mood board alongside new ideas as they will dictate where you go from here.
Colour – Think about the colours and ambience you want to create in the space; cosy and warm or fresh and bright. It is always good to start with colour and slowly build in pattern and texture as your mood board takes shape.  Both natural and electric light have a huge impact on colour – always look at the mood board in the room that you are decorating and view it at different times of day.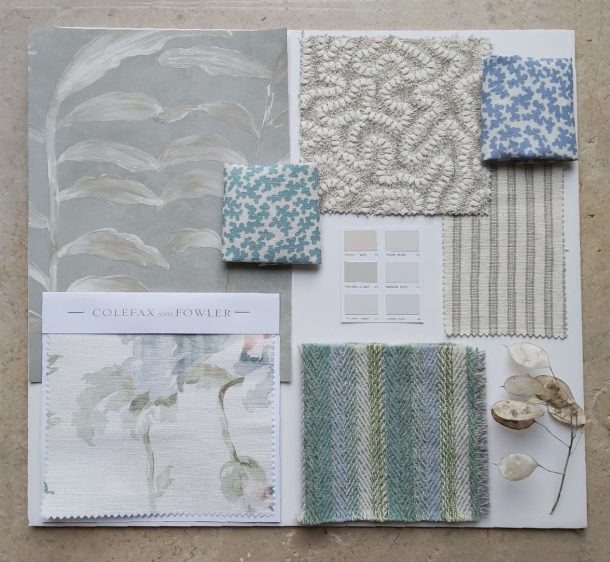 Scale – Take into account the bigger spaces first. Will your walls be painted, wallpapered, neutral, warm, bold or bright?  Note where windows are positioned and how they affect the light in the room. Don't forget to include flooring samples whether it is wood, stone tiles or carpet. They are as every bit as key to a scheme as fabrics, paint and wallpaper.
Try to keep the size of your samples in proportion to their prominence in a scheme for example if a fabric is being used on a cushion cover avoid adding a sample that is larger than your curtain swatch.
Existing features – Consider features in the room that you would like to make the most of, perhaps a fireplace, built-in bookcases, a bay window or bi-fold doors leading out to the garden. This will help you to envisage your completed room. Think of it like a jigsaw puzzle, in that you are fitting all the pieces together so that the overall effect works in harmony.
Keep it simple – Start from an array of samples, fabrics, paints and wallpapers along with images and perhaps even a feather or botanical references all help to capture the look and feel you love. However, it is prudent to limit the number of samples you end up with, if you have too many options it can be overwhelming so be tough in choosing your favourites.
Upholstery – If you are choosing fabric for upholstered furniture you will find a wealth of stylish and practical fabrics to choose from. These fabrics need to have longevity so choose wisely or seek advice.  Order fabric swatches but as you narrow down the options you might find it easier to visualise if you have a larger returnable sample available from most suppliers. You normally have 7 to 14 days to mull over your selection and remember to send it back or you will be charged.
Window treatments – For curtains consider the type of header (the finish at the top of the curtain) you would like, perhaps a tailored pencil pleat header or a simple gather and add examples to your board. You may prefer blinds and the same thought process applies. Remember to include any border and trimming options on your mood board. Samples can be ordered for all of these and will be a helpful reference.

Floor plan – If you can add a floor plan (ideally to scale) to show the desired layout within the available space, there will be less room for error.
Creating a mood board should be fun but also helpful and informative. There are great many choices to be made so it is a great way to start the process and ensure you remain on track. If you are struggling with choices and creative direction get in touch with Derwent House.  We can discuss your project in detail, help with your fabric, wallpaper, paint and trimming selections and create a mood board for you as part of our interiors advisory service – [email protected]