Choosing Fabrics for your home
January 19, 2021 | Blog by: Richelle Spooner-Davidson, Retail Director - Derwent House
Taking the decision to focus on a new decorating project at home can appear overwhelming – too many choices or the risk of making costly mistakes can result in indecision and delay.  In order to remove the doubts and enable you to move forward and enjoy the process, here are a few things to consider and help you choose the right fabrics for your home so that they will perform well and give pleasure for many years to come.
Rooms need colour, pattern, interest and texture, your choice of fabric will play a big part in bringing these elements into your home as they can really pull a room together to create the feel and mood that you are looking for.  To get started take a look at our Key Interior Looks and Homes & Gardens Interior Design Trends 2021 for inspiration and the colours, patterns and materials to use.
When choosing a fabric, for a sofa for instance, you should be thinking not only how the fabric looks, but how it will feel. If you are going to be sitting on this piece of furniture regularly it should feel cosy and inviting.  GP & J Baker's collection of Virtual Pattern Books provide a great source of visual inspiration that also provide helpful product information about fabric composition and suitable usage.
Work out the style of fabric most likely to complement the look and scale of your room as well as the type of wear it will receive.  A strong robust fabric will be most suitable for a family with young children and pets, whereas a pale colour, smooth plain or delicate intricate fabric may be more appropriate for an occasional chair used primarily by guests.  For a good choice of practical fabric collections that come with FibreGuard stain repellent technology we recommend Wemyss Fabrics.
Put to the 'Martindale' test
Upholstery fabrics should have an internationally recognised rub test rating, referred to as the Martindale Test.  Fabrics are mounted on a disc which spins, repeatedly abrading the cloth. The test ends when three threads break, when there is a change in surface appearance or loss of colour. Fabric is categorised by a numerical score to indicate how durable it is.
A score of 40,000 rubs or more means fabric is suitable for severe contract use and 30,000 for severe domestic use which is recommended for upholstered furniture that needs to stand up to the rigours of a busy family home. Fabrics that score between 25,000 – 30,000 rubs are also suitable for high levels of everyday use.
15,000 – 25,000 rubs mean fabrics are classed for general domestic use so suitable for furniture used on a daily basis but not subject to high levels of stress.  Fabrics that score under 15,000 are often made from more delicate yarns and classed as light domestic which are suitable for occasional furniture, curtaining and soft furnishings.  Fabrics scoring less than 10,000 rubs should only be used for soft furnishings such as cushions and throws.
However, it is important to recognise that rub tests doesn't give a complete picture.  For example, some tapestry fabrics get poor rub test results but can last for years. Conversely, a high rub test score doesn't negate the need to consider other damaging factors, such as day-to-day dirt and pet claws, that will also affect the longevity of a fabric.  The type of yarn, colour, woven structure and applied treatments will all have a bearing on how your fabric will wear over time.
I find the question of 'pattern or plain' comes up most often.  Can your room take a pattern?  Do you even like patterns?  Will a plain fabric be too boring?  The key is often the marriage between the fabrics – be it colour or texture – and the use of them in the room.  For instance, you might put a very large-scale pattern on a small chair and a simple herringbone weave on a large sofa and it will work.  Don't be fearful of colour or layering pattern with pattern, like small prints with stripes, florals and checks, or weaves.  For great ranges of semi-plain weaves and subtle textures try Linwood Fabrics, Nina Campbell or Sanderson.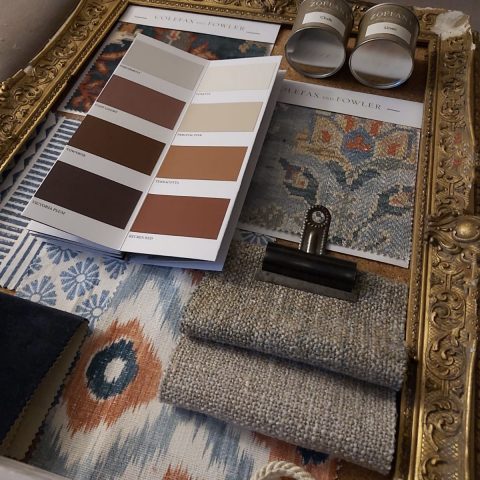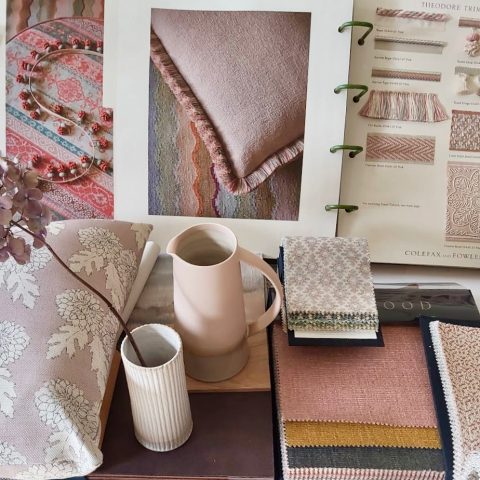 Mood Boards are always helpful and offer a visual reference when it comes to pulling a scheme together.  Even better when accompanied by a floor plan.  Creating a mood board before starting a project, will clarify your thinking and keep you on track as the project progresses.  If you see a 'dream room' in a magazine rip it out and pin it on your board!  Even if you are working with an Interior Designer, this gives them a good brief to work from, saving time and energy.
Don't push yourself to follow a trend whether it is colour or design if you are not naturally attracted to it.  If you ask ten Interior Designers to choose a scheme for your room, you will end up with ten different looks.  Everyone has their own opinion on what looks good.  Find someone that understands the look that you are going for and help guide you in the right direction.  They can arrange for free of charge fabric cuttings or larger returnable samples to be sent to your home to mull over, narrow down your options and reach a final choice.
I am constantly surprised by the combinations that can work in any room.  Don't be frightened to be brave with your design choices, even if it is only a few scatter cushions.  Often these fabrics are the ones you love the most as they can brighten a scheme and lift your spirits on a daily basis!   Enjoy.