Key interior looks for 2021
January 12, 2021 | Blog by: Juliette Barrell - Creative Director, Derwent House
In an uncertain world our need for sanctuary and comfort has never been more important. Whilst trends can appear transient, they come about as a response to our perception of the world we live in. The tumultuous events of 2020 and our hopes for a brighter future will play a key role in determining how we choose to live our lives and define the spaces that surround us. We take a look at some of the key influences that look here to stay.
Colours – Colour is more than a backdrop applied to the walls of our home – it is emotive, evoking feelings which range from energising to reassuring and peaceful. Restorative neutrals and calm inducing grounded tones combined with stronger shades will continue to be a key colour direction in 2021. Dulux's colour of the year Brave Ground is a warm 'stabilizing' neutral whilst Little Greene's Mushroom has warmer tones compared to the greyer, cooler neutrals of recent years.
Greens in shades of lush tropical green through to tones of olive are calm and soothing whilst referencing the natural world of trees and plants. Greens are perfect for tranquil study spaces, bedrooms and in rooms that link to our outside spaces.
Blues will remain popular connecting us with serene blue of sky and sea – our blue planet. From the cleaner palettes of fresh sky blues to deep teal shades, blues look set to grace our homes both traditional and contemporary for some time to come.
Warming colours of mulberry, burnt orange, turmeric, brick and dusty plaster pinks are all colours that will provide contrast but also create luxurious cocooning rooms that are both chic and comforting.
Modern Rustic – is a look that will continue to influence our interiors through the use of natural materials providing texture and offering beauty in their imperfections. Reclaimed materials such as wood and salvaged pieces mixed with botanical textiles, embroidery, basketry and rattan are key elements that are tactile and lift the spirits.
Vintage and Reclaimed – Personalising our interiors, adding layers and telling our own stories through the use of pieces that mean something creates continuity and is important for our well-being. Take a treasured heirloom or an exciting vintage find and work these pieces into your home. Do so by playing with contrasts, old with contemporary, rough with smooth. It's a look that can be added to slowly with time – a few luxurious elements such as a deep velvet cushion, an embroidered throw or a fabulous statement light will keep the look contemporary.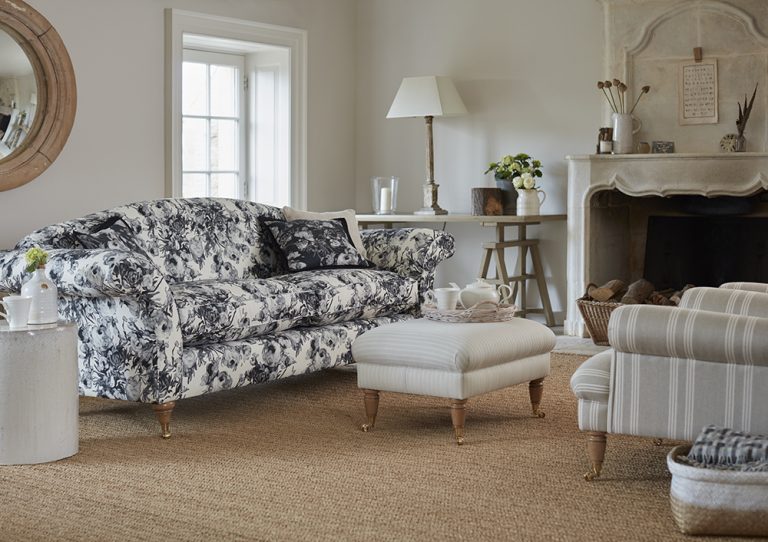 Maximalism – a relaxed accommodation of our belongings into our homes seems more a-tune with life today than the cool, stark minimalist interiors we may have felt pressured to aspire to.  So rather than 'chucking out the chintz', Maximalism reflects our interest in furniture and objects acting as souvenirs of our lives whilst referencing historical interiors. This approach is bold using antique pieces or repurposed furniture combined with dramatic florals, dark woods and deep colours in the home.
Eco-Chic – reflects a desire for spiritual connection and a commitment to sustainability by seeking furniture and homewares that offer longevity. Texture and natural materials combined with a natural colour palette of moss, warm amber, olive green and earthy brick are key to this understated look. Focus on the hand-crafted whether hand-blocked textiles or weaves, ceramics, basketry or furniture that connects us with the provenance of what we buy and a desire for a more conscious approach to consumerism.
And finally, multi-functional living spaces whilst not a look will play a key part in responding to more time spent at home. Our living spaces will need to work hard, home office, home entertainment and snug spaces will determine how we work and relax so rethinking and adapting our homes can ensure we make the most of our interior spaces.  Read more here Rethinking Life at Home