October 13, 2021 | Blog by: Juliette Barrell - Creative Director, Derwent House
'Around a table with family, friends and good food – we never grow old'

This autumn, Derwent House is hosting Table Manners – a buying exhibition of all manner of tables – dining, console, desk, coffee and lamp – ranging from the classical to the contemporary, the functional and quirky.
Whilst most furnishing projects rely heavily on mass produced furniture many people are looking for something more meaningful that they can connect with. A piece whose provenance they understand rather than a standard item from a factory production line. Table Manners was conceived as a response to this need and provides a fascinating and unique opportunity to see a diverse range of tables under one roof. Table Manners is a celebration of some of the most talented furniture designer-makers working in Britain today from well-established names to newer Oxfordshire based makers.
All tables have been selected for their excellence in design whilst demonstrating the skills of the maker and their respect for the sustainability of the woods and materials used. Careful consideration has been given to find tables that demonstrate a thoughtfulness to the process of making and a sensitivity towards form and function. The result is an exciting collection of beautiful tables that are meaningful pieces designed to last and become the heritage pieces of the future.
Table Manners – a celebration of the craft of furniture making
Table Manners provides a fascinating insight into the skills and craft of furniture makers working in Britain today whilst exploring the techniques used across a range of making disciplines.
Angus Ross has been innovating with wood for almost 30 years, his work reflects a curiosity in the possibilities of timber – the highly skilled process of steam bending wood creates fluid, delicate pieces with a sense of flow that are a hallmark of his making. Wayward Furniture's digital design and machining solutions are combined with the traditional skills to produce sculptural pieces as evident in their Ribbon leg dining table.
Attention to the detail of making is manifest in Edward Wild's elm hall table. The top has been quarter matched with 4 matching pieces of burr elm to form an exquisite pattern to the centre of the tabletop. No less painstaking is the innovative work of Chris Miller who in using the end grain of waste birch ply blocks creates a highly sophisticated parquet style surface for his range of contemporary tables.
Rod Wales of Wales&Wales plays with the visual reference of a sawhorse in the design of his Animal console. The structure of the top is visually expressed by leaving the ends open to celebrate how the piece is put together providing structural honesty and a sculptural effect. Griffin & Sinclair's striking Pilosa table uses the natural tension of timber to create the arched form of the leg structure lending the piece a sense of restrained energy.
Inspiration comes from many influences – the ancient Japanese craft of  Kumiko latticework has been used to striking effect by Anthony Dain who details his latest series of tables with these delicate fretwork style panels. Tammy CR merges Scandinavian and Japanese influences. Her Beaumont table uses traditional maple dowels used as drawer runners which provide a beautiful feature within the shelf design.
Form meets function in Michael Buick's Pegg Furniture range where the principle of pegged joinery using simple dowel like pegs provides the design solution for a solid yet easily dismantlable range of furniture. The distinctive design of the Lula James Long Wittenham table addresses issues of ergonomics with careful consideration given to the supporting frame structure of the table.
Rob Barnby at Barnby Design has designed a broad body of work based on a refreshing modern take on mid 20thcentury design with a nod to Scandinavian influences. Barnby's Mason dining and console table play with the texture of contrasting woods – the gentle lines and detailing in leg and timber edges give his pieces a quiet contemporary elegance. Finally Galvin Brothers have taken the traditional elements of wood working – lathe turned spindles, bobbins and fluting and wittily subverted these to develop their own distinctive style of furniture based on simple forms with a keen eye for detail.
Sustainability and good craftsmanship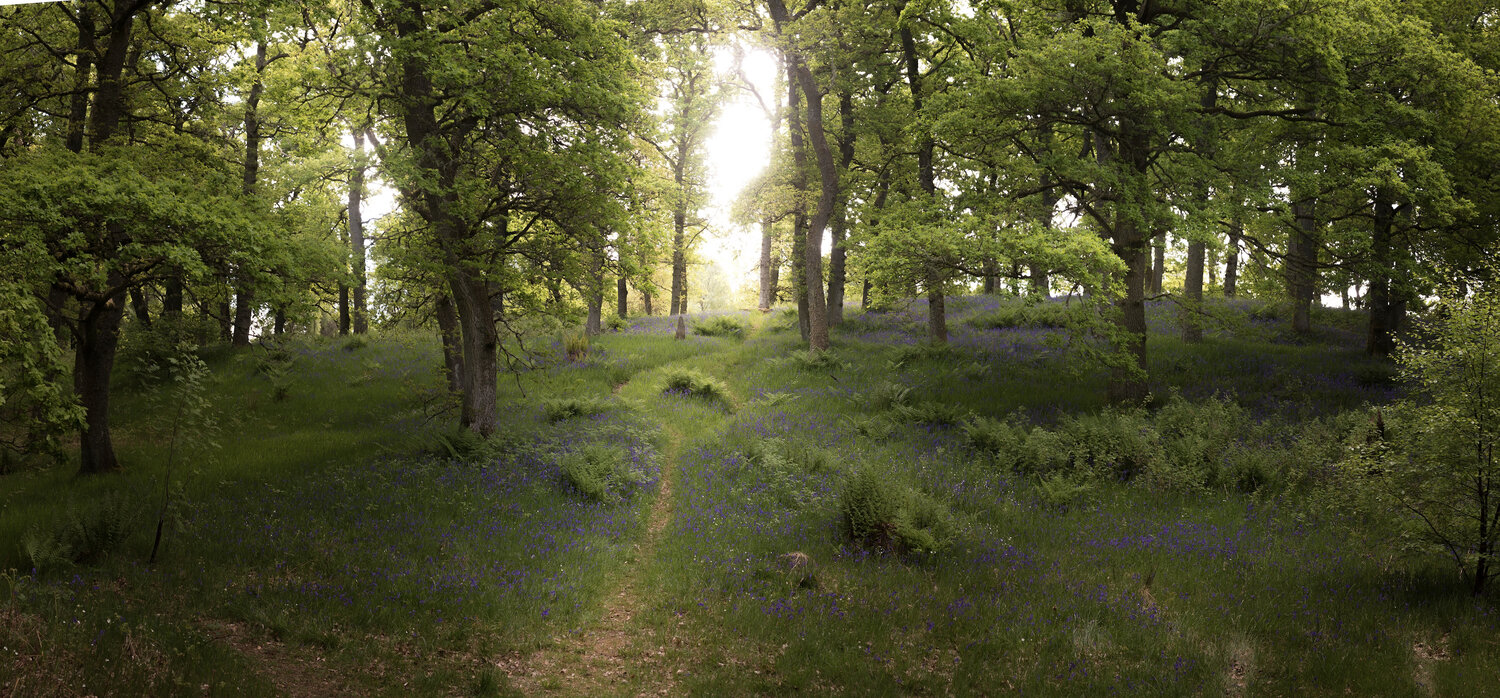 Greater awareness of the climate crisis and environmental concerns is creating a new generation of buyers who want to know the source of materials and the impact of manufacture. With this comes an understanding that individual design and good working practices have a greater financial cost but a lower environmental and social one.
For all makers taking part in Table Manners good craftsmanship and sustainability are ingrained in their practice. Careful consideration is given to the use of materials at every stage of the design and making process. Timbers are from sustainable sources with certification from Forest Stewardship Council (FSC) or Programme for the Endorsement of Forest Certification (PEFC).
Planting and tree management programmes are essential to the urgent requirement to regenerate the biodiversity and habitats of our native woodlands. The importance of such programmes and the role of trees in balancing our carbon emissions in the fight against climate change is well recognised by makers.
Angus Ross furniture source oak from their collectively owned bluebell wood whilst Wayward furniture have planted over 11,000 trees on their woodland plot behind their workshops. Griffin Sinclair purchase a tree through the Woodland Trust for every bespoke piece of furniture made. Chris Miller's exquisitely designed parquet patterned table surfaces ensure that scraps of waste birch plywood are utilised – off cuts that would otherwise go to landfill or incineration are meticulously cut into blocks to make the component parts of the table surface pattern.
Small is beautiful
All our makers are working either on their own or in workshops with small teams. In its very nature, commissioning and making to order is a sustainable method of production with none of the inherent waste and over-supply issues associated with many mass-produced furniture lines. Skills and furniture making experience are shared and passed down in small family businesses or by the recruit of young craftsmen and women to ensure that the training of our next generation of craftspeople is assured.
Living with wood and wellbeing
The colours, texture and grain of wood generate "warmth", "comfort", and "relaxation" by connecting us with nature.  Studies have shown that along with the naturally hypoallergenic qualities of wood, living in home environments using wood lowers stress levels and improves our well-being. Table Manners is not only a celebration of a great tradition of British craftsmanship but also the importance of the role played by tables in our homes.
Sociability by assembling around a table allows friends and family to gather not just to eat or drink but to play games or prepare food – tables are often the social hub of our homes.  Our tables provide us in our busy lives with a place to gather at the end of the day to share experiences, stories and to support each other. Studies show that eating as part of a social or family experience promotes well-being and healthier eating habits.
At Derwent House we are delighted to invite you to come and visit us, to gather around this exciting collection of tables to see and experience the beauty of hand-crafted furniture. View tables