September 23, 2020 | Blog by: Ali Griffiths, Derwent House
Taylor Swift and Derwent House are not two names you would expect to be mentioned in the same sentence.  However, Taylor Swift, who's most recent album 
Folklore 
with a dreamy, woodsy themed narrative, is credited by many as instrumental in creating the new 'Cottagecore' trend that has emerged over the past few years.
Cottagecore is defined as a cultural shift idolising the concept of simple self-sufficient life in harmony with nature and our environment. It has come to the fore during these tumultuous times of Coronavirus and lockdown as people have embraced their gardens, baking and crafting. Cottagecore celebrates a return to traditional skills, crafts, nostalgic aesthetic and a rustic, rural style.
Whilst rustic style has long been a popular interior look, this year the appetite for mixing handcrafted furniture, hand printed and woven fabrics, individually handmade homewares with vintage and upcycled pieces to create a contemporary country vibe is appealing to country and city dwellers alike.
Whether you are completely rethinking your interior or just looking for carefully chosen hand crafted pieces that will earn a treasured place in your home, here are some of our top picks from some Britain's most talented designers and craft makers that you will find at Derwent House.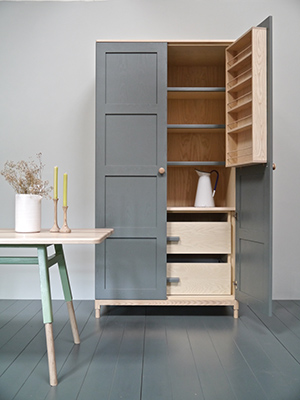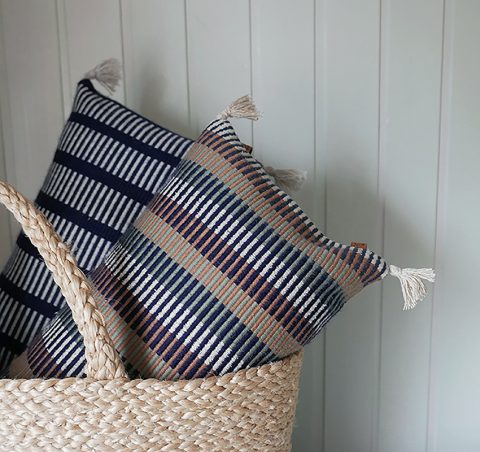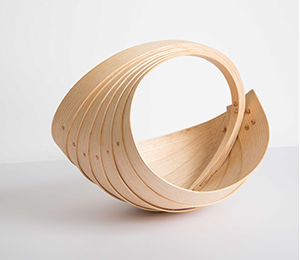 Left: For a less 'built in' look consider using freestanding kitchen units. Barnby Design's beautifully simple and stylish 'Ted' Larder offers ample storage space, handcrafted in oak, ash or a painted finish. The 'Ted' range also includes a storage cupboard, table and benches and a sideboard. Ted Larder £3,450.00
Top Right: Hana Broughs combines muted colour combinations weft by weft and draws on the tapestry techniques of 'weft faced weaving' where yarns are packed tighter to cover the warp to create her beautifully tactile cushions. Tapestry Cushion 'All the blues' £95.00
Bottom Right: Jane Crisp uses low-tech processes to make her stunning traditional trugs with a contemporary twist. Steam-bending ash, walnut, elm and cherry wood, along with patinated copper and brass and finished with traditional boat-builders nail and rove detail.  Medium Ash Trug £210.00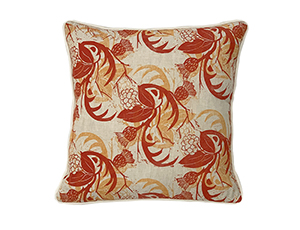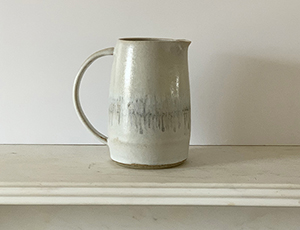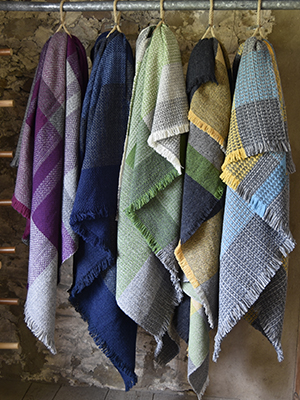 Top Left: Block printed by hand on the highest quality natural linen the 'perfect imperfections' of Albert Harvey fabrics (sold by the metre) and cushions epitomise elegant handcrafted country chic. Fabrics £60 per metre. Oldfield orange cushion £79.50.
Bottom Left: 'A pleasure to live with and a joy to own' is the philosophy that fuels the Leigh Pottery quietly muted, simple and elegant collection of functional and decorative pieces. Unique jug with line decoration £70.00.
Right: Woven from 100% British wool sourced in Yorkshire a Rhian Wyman tactile throw, handwoven in a nature inspired muted colour palette, will add texture and comfort to a sofa or the end of a bed.  Throws from £160.00.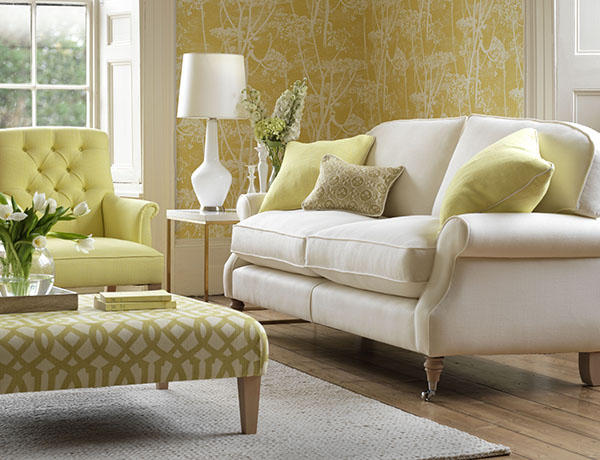 Above: Made to order in a fabric of your choice, pair a beautifully comfortable classical contemporary styled Delcor sofa such as the Ridley with a soft Abraham Moon Melton Wool, slubby Linwood Pronto Linen or a textured weave Sanderson Caspian Weaves.  Delcor Sofas from £1,281.00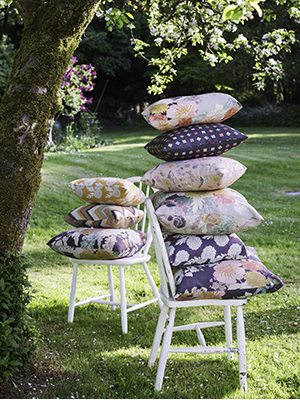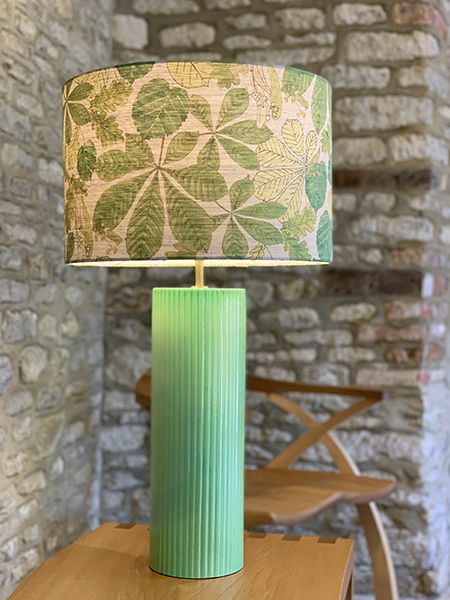 Left: A 'flora and fauna' print is country style staple.  Cotton linen fabric and the soft colour palette used by Abigal Bury in her collection of botanical fabrics (available by the metre), cushions and lampshades put a contemporary twist on a traditional country floral. Fabrics per metre £66.00 and cushions start from £49.50.
Right: Simple, classic lamp shapes are timeless.  Coupled with the highest quality glazes and traditional craft skills used by Tingewick Pottery in Buckinghamshire, to achieve a richness and depth of colour that knocks spots off mass produced alternatives. Apple green fluted cylinder lamp £295.00.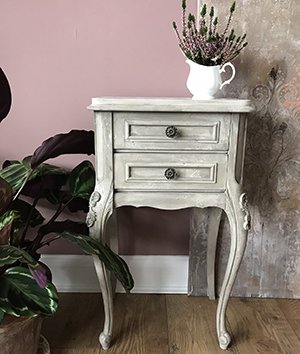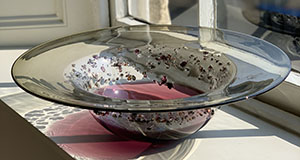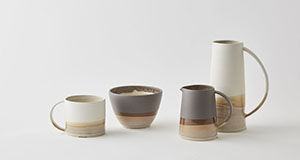 Left: The Painted Pearl skilfully create aged surfaces, texture and patina using lime paint, Venetian polished plaster, concrete and Tadelakt plaster to evoke faded country grandeur on wall panels and upcycled restyled furniture. French Nightstand with Venetian Plaster Top £260.00
Top Right: Country style shouldn't necessarily mean pale. For a splash of rich colour and opulence without going too 'bright' a Loco Glass Sparkle bowl, that has been handblown in Gloucestershire, would look stunning on a table centre or windowsill. Sparkle dish £270.00.
Bottom Right: Equally at home in a town or country kitchen the soft, pretty colours and the combination of matt and gloss glazes used on the Emma Lacey Rainbow range of tableware will make the heart sing. From £38.00 for a Rainbow mug.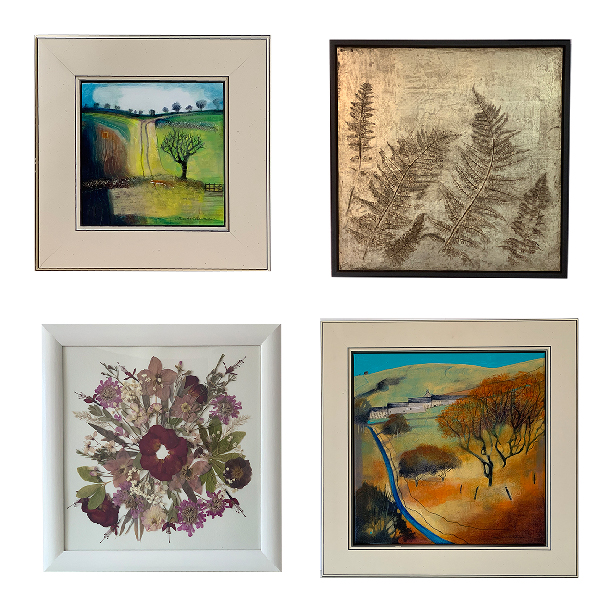 Above: A beautiful landscape painting by Anuk Naumann, a stunning Laura Middleton gilded study of nature or a Flowers and Leaves flower pressing will provide a joyful 'window into the outside world' on your wall.  From left: Anuk Naumann A Fox Walked By, £350.00.  Laura Middleton Ferns, £825.00. Flowers & Leaves Purple Floral Burst £195.00. Anuk Naumann Hillside Farm, £950.00.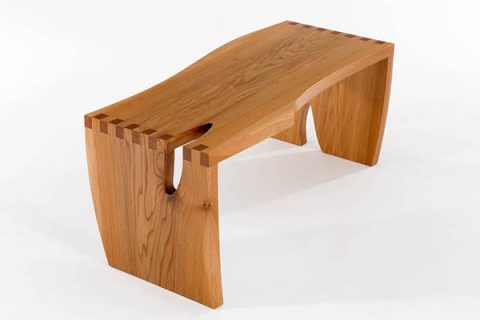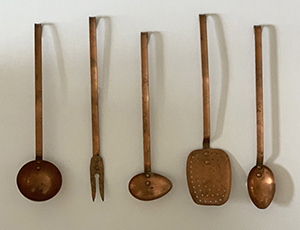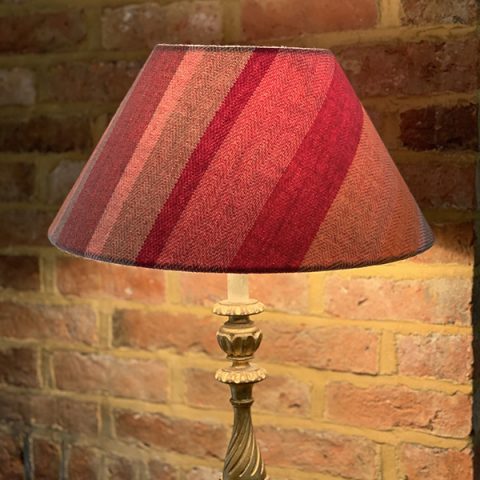 Top Left: When embracing nature and an appreciation of the British countryside, wood is an obvious choice of material that offers unlimited potential. Waywood source sustainable timbers and use carpentry skills honed over generations to design and make furniture that simply celebrates the natural beauty of wood. Elm bench £1,400
Bottom Left: Mix in decorative or functional vintage treasures like this Copper Utensil Set from Kauri Tree to conjure up the country kitchen style of a bygone era. £100 for the set.
Right: The country and coastline inspired colour, subtle pattern and hand pleasing texture of Gaby Devitt's handwoven range of lampshades and cushions have a soft rustic feel.  Gaby also provides a bespoke service to colour match to your scheme. Handwoven lampshade from £48.00.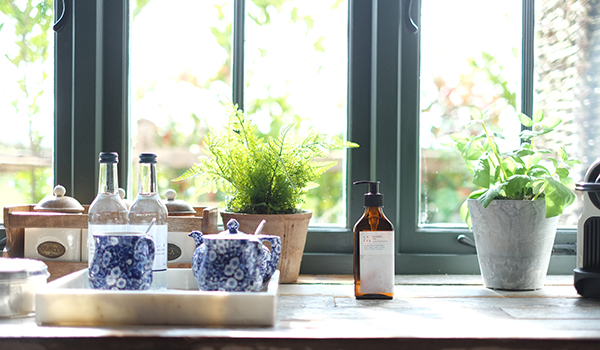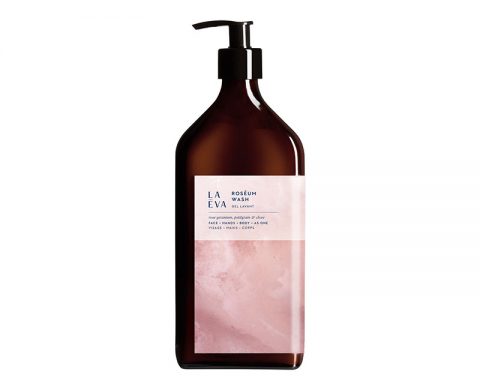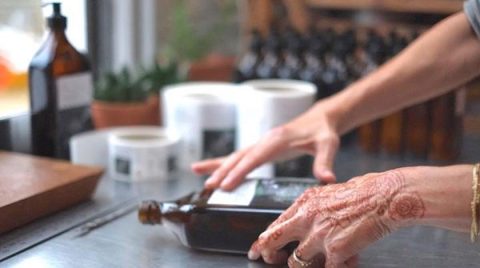 Above: With notes of jasmine, blue chamomile and rose geranium LA-EVA's multipurpose washes, oils and moisturising lotions are inspired by a love of scent, art and the simple rituals of self-care.  These 'little bottles of wellbeing' capture the essence of an English country garden. From £18 for a wash.